Posts Tagged children

This is not an easy subject to talk about. In fact, nobody really wants to discuss it. Yes, we hear titbits about it in the news media at times. Even our leaders find it "politically incorrect" to really debate. And, you know, many of the clergy today find it "too sensitive" to address.
This is because, it's a nasty piece of business; it's one, however, that affects the very heart and core of who and what we are, and it's something we're going to be held accountable for.
Hello and welcome to MessageWeek – sharing those words of hope that we all need to hear.
What we're talking about are the millions and millions of ordinary people like you and me who have been exterminated in recent decades – not to speak of the potential doctors, lawyers, athletes, scientists, artists and musicians who may have been among them – people who never really got a chance at life. Let me explain.
I know how protective we are of our children: for example, paedophiles are adequately dealt with by our criminal justice systems, let alone the adverse media coverage it creates. We're rightly incensed when we hear of Islamic clerics deluding their youth into becoming suicide bombers. And we're equally horrified when archeologists find the mummified remains of a fourteen year old Inca girl apparently killed in a ritual sacrifice on a mountain top.
But, did you know that our society today is just as culpable? We call it… abortion, terminating the lives of those who are most vulnerable, those who should instead be the recipients of our greatest care, love and protection. Unfortunately, our society hides behind fallacious legal interpretations and arguments by lawyers and ethicists as to what determines human "life".
Our school textbooks endorse labels them such as embryos and fetuses – when they should be called for who they are: babies, our own sons and daughters.
Is not this the evolutionary model applied in the worst sense of the phrase: "the survival of the fittest"?
You see, for many years now we've taught our children that there is no creator, that there is no God. We've proffered them instead the evolutionary model, which is a lying delusion that hides our real identity as the very children of God. We did not just evolve into existence. That's a lie, a big furphy!
We are created, instead, in God's image and likeness – to be His children forever. That's the indisputable truth. It's not a relative truth. It's not folklore – God is, and we had better listen to Him.
But, if you take God out of our lives and out of the picture, how easy it is to carelessly believe that those infants are dispensable – and in the worst kind of way.
I'm glad God that is good, and His judgements just, because if, according to the scriptures, we're going to be held accountable for "every idle word" that we may speak, what's then the judgement going to be for what we've done to millions of our murdered children?
Are we not collectively guilty of the most grievous of crimes? Is there any hope? Is there anything we can still do? Yes, there is.
Turn and repent, says God. He says: "Turn from our sinful ways", else, in the words of the prophets, utter destruction awaits.
History is a good precedent for the consequences we might expect, when "wickedness" reaches a saturation point that no-one can ignore. Whenever a civilisation's morals decline, its demise isn't far off. It's happened time and time again.
Thankfully, for the sake of those who are faithful to Him, God does intervene. It happened in the days of Noah, and again in the cities of Sodom and Gomorrah, where God's judgement was given to a violent and wicked generation.
Jesus told his disciples that the time prior to His return would not be unlike "the days of Noah" – where after 120 years of warning and witness, and no one listened, God finally passed sentence.
The good news is that God alone has the power over life and death. We don't. Those children were never ours to begin with, they were simply on loan. Thankfully, Jesus says that one day all who are in their graves will hear his voice and come out – to stand and tp live again. He can say that on full authority because he paid a terrible price in His own life to account for our sins, our "debts".
There is a day of resurrection, and there is a day of reckoning. There is hope, hope in turning around, in confessing our sin, individually and collectively.
Can I ask: Are we up to the task?
For the MessageWeek team, I'm John Klassek.
Remember, there is no shame in turning around, no dishonour in repenting. We can't bring back those children, but we can turn back to God – and find forgiveness, healing and hope.

Who is the God of our imagination? I mean, how do we think of God? Who or what comes to mind?
It's a question worth exploring.
You see, a lot of people say they believe in a sort of "higher intelligence", a God who is said to have made everything, and yet when you ask them specifically about this God, you're likely to get a whole range of answers.
Some people say they tend to see the God of the Old Testament as a bit too patriarchal and jealous at times. He seems, well, a bit mean, and ever ready with retribution.
On the extreme, a renowned atheist recently described God as: "a misogynistic, homophobic, racist, infanticidal, genocidal, filicidal, pestilential, megalomaniacal, sadomasochistic, capriciously malevolent bully." (Richard Dawkins, The God Delusion, 2006)
Yet, many believers prefer what they seem to see as the gentler Jesus of the New Testament – someone who loved little children.
So, how do you see God?
Well, to begin with, what we have is the Bible as a testimony, the most printed and published book ever in history! It's a witness; the only testimony we have that tells us about God – who He is and what He is doing. And, it is important to note what is called "the Christology" of this unique book. Simply put, the God "of the Old Testament" was none other than Jesus Christ Himself! Jesus was God who came from the Father to live among us, to reveal God the Father, and when His work was done, to then return.
The writings of Jesus' friend John, and as found in the Book of Hebrews, plainly state that it was Jesus who made the world; it was Jesus who spoke everything into existence.
John described Jesus as: "God is love." He went on to write that "in God there is no darkness at all"! (1 John 1:5)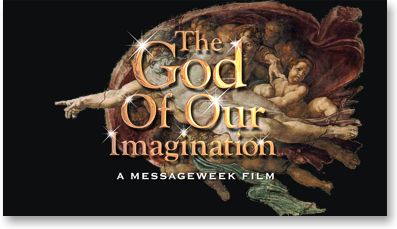 The problem exists where some casual Bible readers argue that: wasn't it God who sent a flood and drowned humanity in the days of Noah? Wasn't it God who destroyed Sodom and Gomorrah with fire and brimstone?
Wasn't it God who sent devastating plagues on ancient Egypt? And, wasn't it God who told the ancient Israelites to utterly destroy the peoples in Canaan?
How could He be the same God in Jesus, they ask, who willingly suffered and paid for the sins of the world?
Well, to begin with, we must understand the depravation and wickedness of some of the ancient peoples, who allowed their children, for example, to pass through the fire to their god Molech.
Do you know what this was? This was nothing less than child sacrifice in the name of religion! It was this, among other abominable practices, that caused God to intervene at various times in history.
Yes, we may read about the gentle Jesus who blessed the little children who came to Him. But let's think carefully then how this same Jesus might feel about the killing of innocent, little children?
Could a just God have remained silent on, for example, the horrific time of ethnic killing of all baby boys – thrown into the Nile to be eaten by crocodiles – by the Egyptians? There are other records in the Bible and in history, too, where the killing of children occurred.
Certainly such acts, in individual cases or widespread throughout society, are an indicator of just how depraved and wicked people can become.
Now, God is a God of justice. Nothing escapes His attention. He is a passionate God; a God with feeling.
Listen to what He says as recorded in the Book of Jeremiah, "Yes, I have loved you with an everlasting love; Therefore with lovingkindness I have drawn you." (Jeremiah 31:3)
That term "loving kindness": There's really no singular English word that can convey the Hebrew "khesed" (a word that is used some 240 times in the Old Testament) – the nearest we have in English that describes God is "loving kindness" or even translated elsewhere in the Bible as "mercy".
So, the question remains, how does God deal with the "wicked"?
Did you know that God gave Noah 120 years to preach a message of repentance before the flood came?
Did you know that God visited Abraham to discuss the outcome of the "exceedingly wicked" citizens of Sodom and Gomorrah?
Of course, we may ask: How is all this relevant to us in our times?
Naturally, we want "God" to be good and gentle and kind, but we don't really want Him meddling in our private affairs, do we? By that I mean, haven't our own sins in this world piled high to heaven?
May I ask: What is abortion but the condoned killing of baby children?
Millions of children are being killed each year in our world. The ancients at least claimed some sort of religious overlay, but are not ours killings of convenience? Sadly, we don't even call them babies anymore – that would be too personal. We instead label them as embryos or fetuses.
How do you think God feels about those we kill – those who are being formed "in His image and His likeness"? Now, of course, if we don't believe in God (and therefore our accountability to Him), then the "survival of the fittest" mode means nothing less than a dark and deadly world.
There are few of us, however, believe it or not, whose work is to witness that there is a God, an awesome, powerful, righteous, loving God – a God, however, Who may not necessarily fit "the God of our imagination".
This God is real, and personal, and He tells those of us willing to listen that He's coming "quickly".
If we turn to the last book of the Bible, Revelation, where we're given a glimpse of the world at a time of economic upheaval, war and suffering, we would do well to also note the condition of this society:
"For her sins [the sins of this society] have reached to heaven, and God has remembered her iniquities." (Revelation 18:5)
God doesn't hide from us what He's going to do. He is a God of Justice, as much as He a God of mercy and compassion, and the pages of scripture testify to: Who He is; what He has done in the past; what He's doing now, and, what His plans are for the future.
You know, we really have only one recourse: we need to genuinely turn and seek God, and come to know Him. Can we turn from our sinful ways? Are we able to ask His forgiveness? Do we doubt the extent of His grace?
For the MessageWeek team, I'm John Klassek.
One thing is certain: an encounter with the real God is bound to change us forever; but, persisting with "the God of our imagination" is a convenient risk too great to contemplate.