Posts Tagged NT Greek
Attempts to smuggle a Trinity (three persons) into the Greek New Testament
THREE VERSES in the text of the Greek New Testament where insertions or replacements of words supporting a concept of "Three Persons" have been made:
Matthew 6:13
1 Corinthians 8:6
and, 1 John 5:7-8
First, in Matthew 6, the insertion follows the ending of verse 13:
For yours is the kingdom of the Father and of the Son and of the Holy Spirit forever (to the ages). Amen 1
Second, in I Corinthians 8, the insertion follows the ending of verse 6:
and one Holy Spirit, in whom (are) all and we in him (or it)2
The third one – having since become known as the Comma Johanneum – may be traced to Desiderius Erasmus, a Dutch scholar, who published a Greek New Testament in 1516, with a second edition in 1519. Publishers of other editions of the time criticised Erasmus' work because it lacked the Trinitarian statement in I John 5:7-8 (which eventually found its way into the King James Version).
in heaven, the Father, the Word and the Holy Spirit, and these three are one
Erasmus told his critics that he would add the statement if they could show him at least one Greek text containing those words. They eventually did, and that's how they did it: it seems that in 1520 they commissioned a monk by the name of Roy to produce a Greek manuscript to suit. Apparently it took him a year, and he translated the additional passage from a Latin text. Erasmus then inserted it in his edition of 1522, with a footnote expressing his suspicion that the manuscript had been specifically prepared to confound him. Today it is in the library of Trinity College, Dublin, and it is said that it has long been the most consulted of all.3
For all three verses, the insertions and replacements of words are in the apparatus of the NESTLE-ALAND NOVUM TESTAMENTUM GRAECE.
No reputable recent translations into modern languages that we know of contain those insertions or replacements.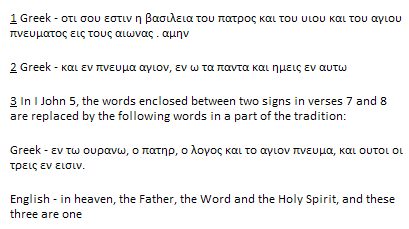 By Ernie Klassek